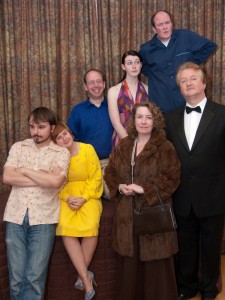 Well, after a hectic rehearsal period and an even more hectic 2 days in the Annexe, Bedroom Farce is now finished.
Despite some horrible weather over the weekend, we played to around 90 people over the 2 nights, which is our highest attendance in recent years. We had a great time working on this play and hope that those of you who came along enjoyed it as much as we did.
As ever, we'd like to say a big thank you to our audience members, Patrons, Advertisers and especially our Sponsors (East Port Garage & W D Factors) for your continued support of live theatre in Dunfermline. We could not do what we do without you. Thank you.
We now take a well deserved month off, and will be back in rehearsals for our Spring production from the 1st week in January.
Dunfermline Dramatic Society would like to wish all of our supporters a very merry Christmas and a happy New Year for the festive season ahead, and we look forward to entertaining you again in the Spring.