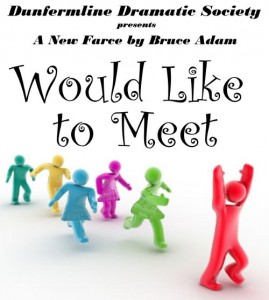 Dunfermline Dramatic Society is happy to announce we will be performing "Would Like to Meet", a brand new farce written by Bruce Adam, in the Alhambra Theatre on 26th & 27th May 2010.
We will be using the massive Alhambra stage as a black box studio, housing both the audience and the acting area on it.
This will be the first amateur drama production in the Alhambra since it's renovation and revival last year.
For further information, see our Next Production page.