Dunfermline Dramatic Society presents
Bedroom Farce by Alan Ayckbourn
Carnegie Annexe Theatre
27th & 28th November @ 7.30pm
Tickets £7 (£6)
available from society members or from Carnegie Hall Box Office on 01383 602302
Synopsis:
Bedroom Farce is a play about four couples. The elder couple, Ernest and Delia, go out to dinner to celebrate their wedding anniversary, which doesn't go well, but that wasn't their fault. They return home, and are determined to celebrate what's left of the anniversary with a snack of pilchards on toast in bed.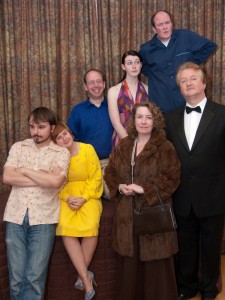 Meanwhile Malcolm and Kate are preparing to host a house-warming party. They've invited (but only out of obligation) Nick and Jan, but Nick has wrecked his back and is thus not keen to go.
Trevor (son of Earnest and Delia) and his wife, Susannah, are having "marital problems", and it is these problems that permeate the lives of the other couples, and thus the play. Mum Delia never approved of Trevor's choice of Susannah for his wife, instead believing (and of course telling us) that he should have married Jan instead. But Jan's married to Nick…
Bedroom Farce was written by legendary writer, playwright, director and theatrical all-rounder (and now knighted) Sir Alan Ayckbourn. Its a tale of three bedrooms, and of course, what happens between couples in bedrooms normally stays in bedrooms. Ayckbourn gives us a glimpse into that world behind closed doors, often with hilarious results.